The Retro Future - An internet programmable microwave from 1999
Apr 8, 2020

On September 20, 1999, Sharp released the world's first microwave that could download recipes from the internet when connected with a compatible device. As a part of Sharp Space Town, Sharp envisioned a world where devices were connected and working in harmony.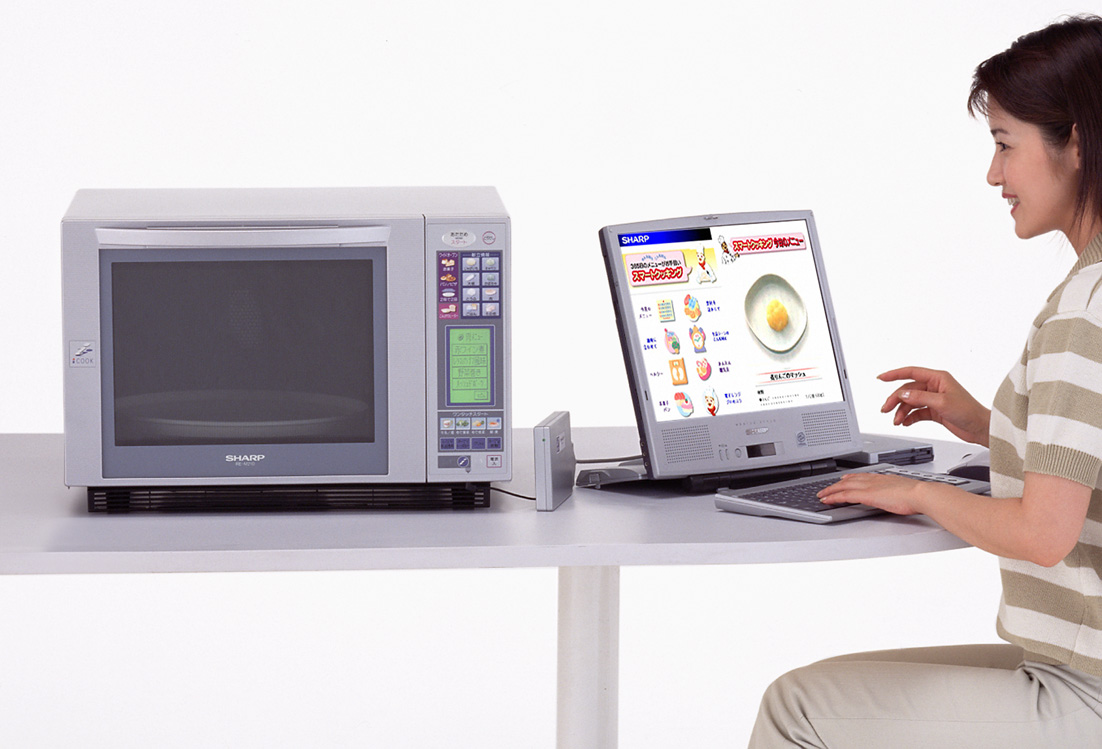 The 98,000 yen Sharp RE-M210, equivalent to $1411 when adjusted for inflation, still required an additional 10,000 yen for the dish information box to store custom recipes, bringing the total cost to over US$1500. In addition to its smart capabilities, the RE-M210 an oven as well that could bake, toast, and grill. Per Ascii.jp, a typical single-function microwave was 19,800 yen at the time.
Sharp had a line of Linux-based PDAs at the time called Zaurus that were compatible with the microwave. Since wifi was not yet popularized, the user had to connect their PDA to their cell phone to download recipes. The latest recipes would automatically download in the background so they were ready when the user needed them. Sharp called this background downloading, a novel concept at the time, ICRUISE. Once the user had the recipes they wanted to add to the microwave, they would plug their Zaurus into the microwave using the RS-232 serial cable. The microwave was also compatible with Windows, an even more clunky solution and recognition that not everyone had pocketable devices in 1999.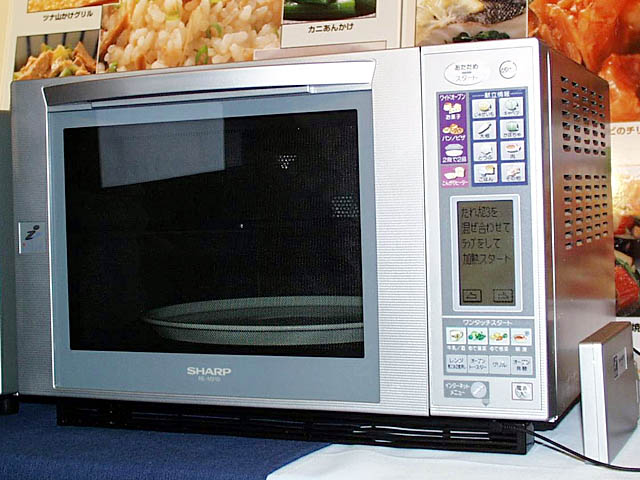 Sharp only expected 20% of users to connect the device to the internet, expecting users to use the 65 built-in recipes or manually input commands. The microwave was so forward-thinking, Sharp acknowledged it didn't actually know how many people would buy it.
"The specific target image of the household is unknown. There are needs, but we cannot grasp how large it is."
— Toshio Omori, director of the Electrification Systems Division.
But according to a Japan Inc article in June 2000, Sharp spokesperson Ema Tanaka said the oven is selling well, "especially among working women in their 20s and 30s" who were buying them for their husbands.
The recipes would display on the microwave's relatively large LCD screen. On-screen instructions along with automatic time input and mode switching made it a foolproof way to make decent food. For example, their baked cherry custard starts with a microwave step then automatically transitions to the final baking process. Some recipes would run the microwave at low heat for as long as an hour - Sharp intended this to be a versatile cooking device.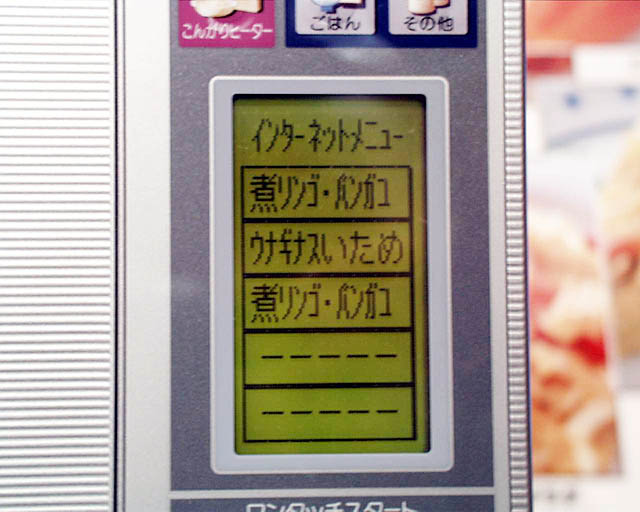 The microwave's biggest downfall was likely its limit of five custom recipes installed to the microwave at the time. To combat this limitation, Sharp offered a surprisingly thorough calendar of seasonal recipes. The user was to connect their microwave to the device every few days or so to load the next few days' meals. For example, for May 2000 Sharp released 24 main/side dishes, 3 staple foods, and 5 dessert recipes. Example recipes include ground meat curry, boiled onion and beef, leek-filled clams steamed in sake, and more. To browse these mouthwatering microwave masterpieces, head over to Archive.org to browse the website dedicated to the microwave. Not all of the site is archived (sadly the "constipation relief recipes" page is MIA), but it gives you a good feel of how much effort Sharp put into making the service as good as it could be. Many recipes are archived, such as the ones on this page. Sharp even had a recipe search that lets the user choose two ingredients to find recipes for.
Sharp succinctly ends its instructional guide by asking "Why don't you try "Internet Cooking" using Zaurus?" Well Sharp, I'd actually love to, thanks for asking.
Links